Description
1 IN 4 KITTENS SUFFER FROM ANXIETY
The main problem we find with conventional beds is that they do not have any kind of insulation both temperature and noise, making our little kitty may feel vulnerable when it does not find where to hide from the cold or noise, causing much anxiety to our little kitty.
So much so, that veterinarians estimate that 1 in 4 cats suffers from anxiety, a number that is, to say the least, worrying.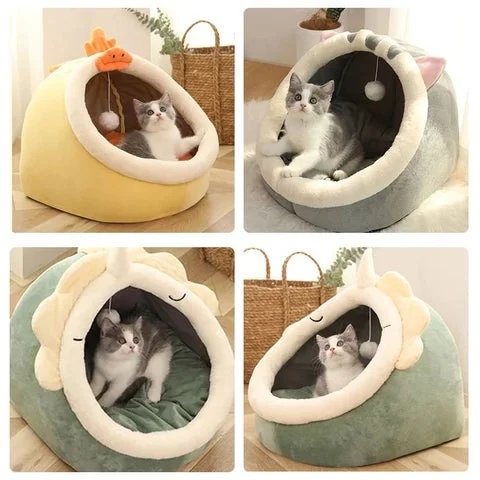 HOW CAN THIS HELP YOUR KITTY?
We know that the health and comfort of your cat are first and foremost important to you. That's why we introduce you to our cat cave. A bed, that thanks to excellent insulation, makes your kitty hide when feeling anxious, with a noise silencing material, and giving him the sense of security he needs!

A bed that guarantees warmth and shelter that ensures maximum comfort for any nestled, hiding, and snuggling kitty.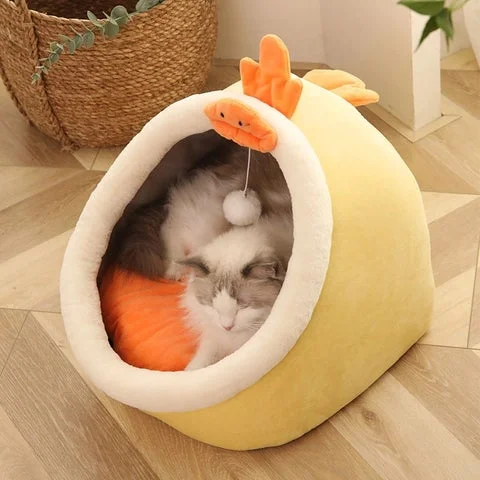 COMFORTABLE, WARM, AND COZY
Your cat will find a soothing and peaceful resting place in cat cave. Cozy and comfy its alluring design makes it a wanted cat bed by all feline companions.  The viscoelastic foam inside provides optimal comfort and perfect temperature regulation, making it the desired resting place for your cat all season long!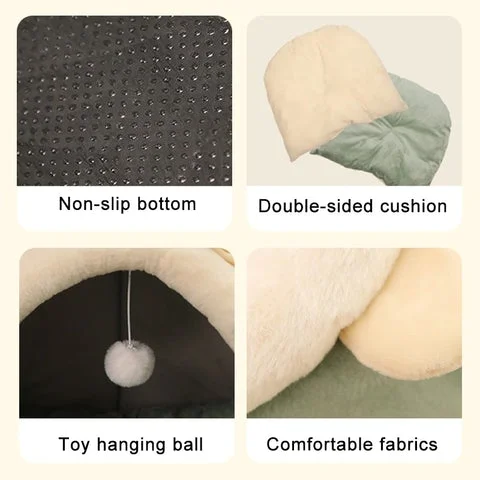 🐱 ANTI-ANXIETY: The noise muffling material, creating a safer environment for your kitty. Lined with synthetic felt and faux fur, providing a bubble of tranquility and security for your kitty!
🐱 WARM BED FOR OUR CATS: Winter is just around the corner, and you can already feel the cold in the air, for that reason and because cats are more sensitive to the cold, this bed offers a warm and comfortable shelter for our beloved pet.
🐱 COZY HIDING PLACE: Cats sometimes need to be alone. Allowing them to go in hiding when you have company over and they need to hide for a bit.
🐱 COMFORTABLE AND COZY: This Cozy Bed For Cats ensures maximum comfort for any nestled, hiding, and snuggling kitty.
🐱 STURDY STRUCTURE: The large, round entrance and spacious interior of the cat teepee are supported by high-density foam, keeping your cat warm and comfy
IDEAL FOR ALL CATS
Finally, a perfect bed for all cats of all sizes and breeds. A comfortable bed, a warm bed, and a cozy bed for your kitty. From a Persian cat to a Siamese, this bed is perfect for everyone! Here's to our kitties!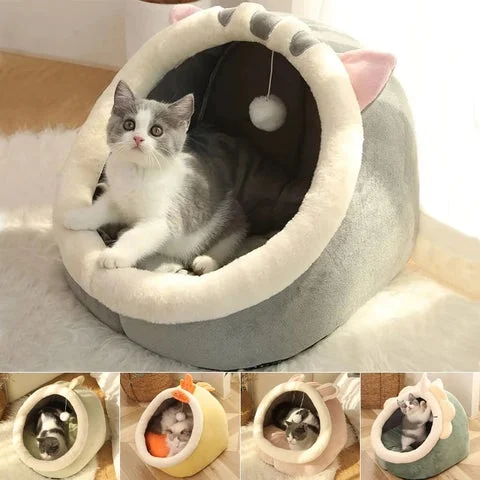 SPECIFICATIONS
Feature: Soft and warm
Type: cats
Material: 100% Cotton
Is Smart Device: no
Item Type: Cat bed
Use range: Cat house
Cat house quality: Excellent
Note: This cat cave is vacuum-sealed. Wait up to 2 days after opening for the cave to return to its full form.

Size:
S 31X30X28cm
M 40X40X32cm
L 48X45X37cm
WHAT IS INCLUDED IN THE PACKAGE?
Payment & Security
Your payment information is processed securely. We do not store credit card details nor have access to your credit card information.